If you are ready to dive the world of podcasting, I'm your girl. I have had TONS of experience, with different recording scenarios, audio editing software, and promotional strategies. The show I host and produce recently surpassed 2 million downloads, after 3 years on the air.
I know helped lots of beginners figure out their first steps in launching a show. And I've helped established podcasters improve their game and expand their reach.
Sure, you could go to YouTube or learn a thing or two through some podcasts, but that is one way content—from them to you. In contrast, you and I will work together to help you get going. I am your personal podcast coach, walking you through the process step by step. I answer your questions and tailor our time together to whatever suits you best. I can help you both set your podcast goals and craft a strategy to help you achieve them.
People like to complicate things up, but I like to keep it simple. That's why I offer two podcasting packages (see below) and a la carte calls, as well.
To get an idea of what I have to offer, contact me today for a no-obligation 15-minute conversation. Reach out to me today and let's take your show from just a dream to a reality!
PODCAST COACHING PACKAGES
Entrepreneur Launch Package: For those who want to launch an effective podcast
Includes: guidance on best practices for recording and editing, podcast platforms, optimal sound, branding, naming the show, format, strategies for choosing show length, release schedule, engagement, and influence.
THREE PERSONALIZED ONE-HOUR PHONE CALLS - $650
____________________________________________
The Next Level Podcast Package: For those who want to broaden their podcast's reach
Includes: guidance on aesthetics, artwork, branding, strategies for messaging, marketing, monetization, getting on more platforms, engagement, impact, and growing your audience
THREE PERSONALIZED ONE-HOUR PHONE CALLS - $650
____________________________________________
A LA CARTE CALLS - Holistic hilda at your service
Includes: whatever you need! Once we schedule the call, you tell me exactly what you need: help getting over a slump in show ratings, ideas for growing your audience, branding, social media strategies, improving your sound, etc. I will address each concern one-by-one, and give you applicable take-aways, guaranteed to take you to the next level.
ONE PERSONALIZED HALF-HOUR PHONE CALL - $125
Public Speaking
I am a dynamic speaker, well-versed on a number of topics, from ancestral health, to self care, fitness, and, of course, podcasting! Recent health talks include: "Self Care," "Top 10 Nutrition Tips," "Power Plate: Super Foods," "Get Real," and the "One Thing to Improve Your Health" (given at Take Back Your Health in Virginia in the fall of 2018). Re. podcasting, I have spoken on "Making a dent in the universe," "Podcasting for non-profits," "Finding your voice," and "Podcasting 101" (given at DC Podfest 2018). I've also moderated panels at the Fire and Ice Retreat in Minnesota in February 2019 and at Podfest Multimedia Expo in March 2019.
I am happy to address those in the corporate world, fitness classes, community centers, schools, and those in church settings.
Contact me to check on my availability and speaking fees.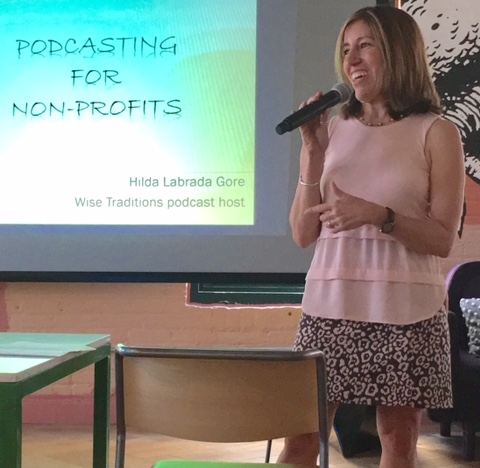 Energy, enthusiasm, new ideas every time